Skip to Content
Battery Recycling Services in Vancouver, BC
North Star Metal Recycling Safely Recycles Old Car Batteries
Batteries are essential to powering many of our favorite electronic devices and even our vehicles. However, batteries don't last forever. Throwing them away in the garbage isn't the best solution because they contain harmful metals. North Star Metal Recycling provides professional battery recycling services in Vancouver, BC, and surrounding areas, including Burnaby, Coquitlam, Richmond, Squamish, and Whistler. Whether you have alkaline, nickel, lithium, or car batteries, we would be happy to recycle them all for you safely and effectively at our battery recycling facility. We recycle car batteries by first crushing the battery and then neutralizing the acid. If you are unsure what to do with your used car battery, recycle it with us. Reach out today to request a quote!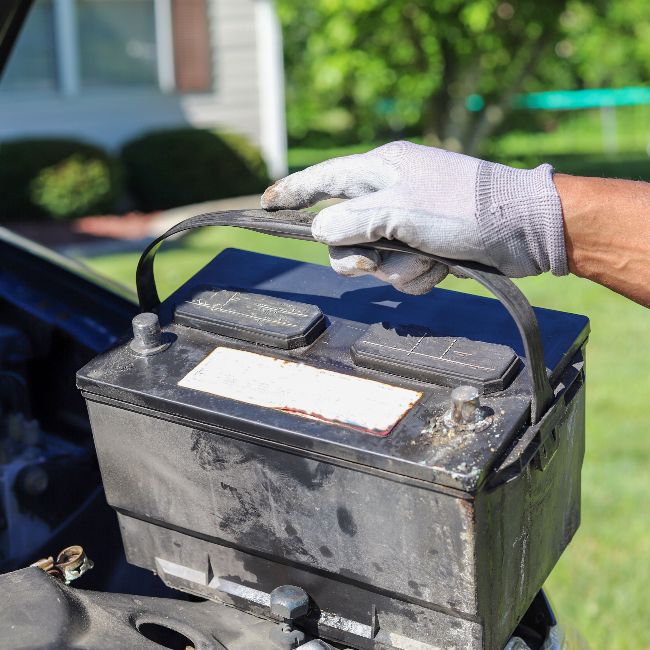 Why Can't You Just Put Your Old Batteries in the Trash?
Batteries contain hazardous metals and chemicals, including lead, mercury, nickel, cadmium, and lithium. When we throw our batteries away in the garbage, they end up in our landfills. Once there, they release their harmful toxins into the soil, which can ultimately make their way to your community's groundwater supply. When you think about the rise in the number of electronics requiring batteries being produced, it's no wonder our landfills are rapidly filling. Our professional battery recycling company help reduces landfill and environmental contamination, something you can be proud to be a part of on the Lower Mainland. Our battery recycling company in Vancouver is paving the way for a cleaner, healthier environment one recycled battery at a time.
Why Is It Good to Recycle Batteries at a Facility?
Batteries contain corrosive materials, meaning they may break open and spill their hazardous contents at any given opportunity. When batteries break inside your trash or recycling bins, it puts your health and safety unnecessarily at risk. Not only do you have to worry about their toxic chemicals and metals being released into the atmosphere, but they also tend to spark fires. Whether in your trashcan or the local landfill, a fire can spell disastrous and costly consequences. An underground landfill fire caused by batteries can rage for years, releasing harmful emissions into the air we breathe. This is why many places have strict laws about recycling rechargeable batteries to keep the public at large safe. Taking your old batteries to a professional facility such as ours gives you peace of mind that they're being disposed of properly with minimal environmental risk.
What Are the Benefits of Recycling Batteries?
Whatever you do today has long-term effects on the future sustainability of our planet. Recycling batteries is one of the many ways you can contribute to a brighter future for all. Many of the materials found inside batteries are rare and costly to mine, both for humans and the environment. For example, electric car batteries usually contain nickel. When nickel is mined, it produces harmful dust containing other toxic metals like chromium, cobalt, or copper, which is hazardous for the mineworkers to breathe.
In many cases, batteries can be recycled to create other batteries. Therefore, when North Star Metal Recycling recycles, we decrease the need to collect additional raw materials while conserving our available limited resources. Batteries comprised of recycled materials usually cost less, making it an economically beneficial choice as well. Don't assume your old batteries aren't worth anything. They could be worth some money when you bring them to our professional battery recycling company!
Professional Battery Recycling Services Available in Bulk
Our Vancouver-based battery recycling company is capable of recycling batteries in bulk. Since 1950, Lower Mainland residents have relied on us for numerous recycling services. In addition to batteries, we also accept old appliances, electrical wiring and cables, electric motors, radiators, vehicle rims, and demolition and industrial scrap metal. We do not accept vehicles, bicycles, computers, televisions, or appliances and cooling units containing Freon gas. We are proud to be among the local leaders in copper and metal recycling services with a fleet and other equipment available to make unloading easier. We also offer convenient pull-through access at our state-of-the-art facility.
Contact Us with Any Battery Recycling Questions and Concerns
Do you have any questions or concerns regarding our professional battery recycling services in Vancouver and the Lower Mainland? Reach out to our friendly, knowledgeable staff for more information or a quote. You won't find a more reliable and trustworthy battery recycling company. We pay current fair market values for whatever types of batteries you have to recycle. Come see us today!
We Buy and Sell Metal and Much More