Skip to Content
Wire Recycling Services in Vancouver, BC
Our Wire Recycling Company Serves the Lower Mainland
Thanks to the continuous advancement of technology, it's not hard to find yourself with a growing number of outdated phone cables and power cords inside your home. If your junk drawers and cabinets are teeming with them, North Star Metal Recycling would be happy to take some of them off of your hands. We provide top-dollar copper wire recycling services in Vancouver, BC, and many surrounding areas in the Lower Mainland. Although these electrical wires and cables may have become obsolete to your household, many of them contain copper and can be considered valuable scrap metal. Copper is worth more than other metals because it resists corrosion and conducts heat well, making it ideal for large machinery and equipment. If you are looking for the best copper prices in the Vancouver area, you have come to the right place. Contact or stop by our copper recycling facility to receive fair prices on your old wires and cables. We base our copper prices on current fair market values. Ask us for a quote!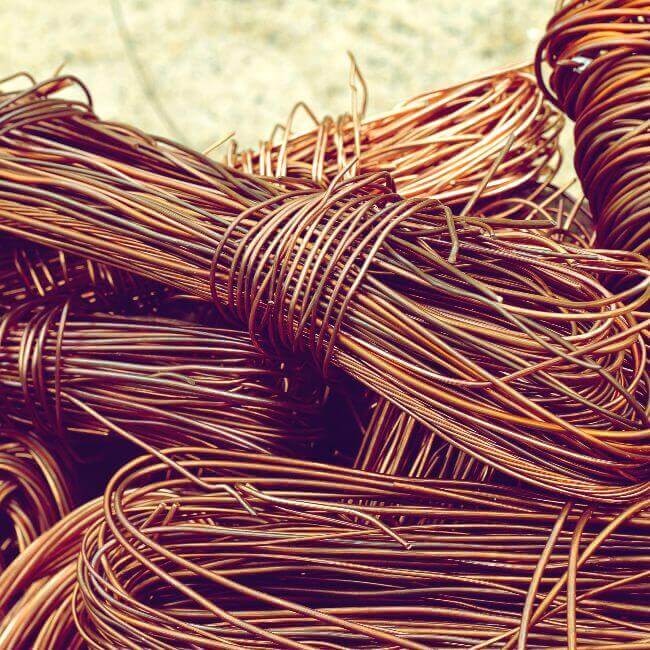 What Types of Electrical Wires Are Scrapable?
North Star Metal Recycling accepts both small and large quantities of unwanted electrical wires and cables. We accept all of the following types at our copper and metal recycling facility in Vancouver:
Phone cables
Equipment wires
Speaker cables
Home appliance wires
Coaxial cables
Ethernet cables
Power cords
What's the Difference Between Wires and Cables?
Although you may hear the words' wires and cables used interchangeably, they actually refer to two very different things. A wire represents a single line of electrical conduction, while a cable is comprised of various wires held together and insulated by plastic or rubber sheathing. In general, cables are worth more than wires because they contain more scrap metal.
Is It Worth It to Strip the Plastic Coating Off First?
The answer depends on your goals. Because the plastic or rubber coating insulating your wires or cables isn't of value to our wire recycling company in Vancouver, we recommend stripping it before bringing in your items. While tedious, this process can help you maximize your return on our wire recycling services because it ensures you will get more per pound of scrap copper, although your items' total weight will likely be less. Our wire recycling prices are determined by taking a cross-section of your wire and comparing it to the current market value of copper and other scrap metals, which fluctuates from day to day. While you won't necessarily get rich on recycling your old electrical wires and cables, you can expect quite a chunk of change for items you may have otherwise considered tossing out with the garbage.
My Wire Is in a Tangled Mess. Will You Still Take It?
Yes, we will accept it at our copper and metal recycling facility in Vancouver. However, you should expect to be paid less than the total material weight. When you take the time to separate your wiring, you will be rewarded with more accurate pricing for your efforts.
Do Contractors, Electricians, or Plumbers Get Better Prices?
You won't get any special pricing on our wire recycling services for being a contractor, but we may be able to make better arrangements for our high-volume customers. This may include roll-off containers, forklifts, or fleet trucks to help you transport your electrical wires and cables to our facility in bulk.
Curious What Your Wires Are Worth? Request a Quote Today!
Whether you live in North or West Vancouver, Burnaby, Coquitlam, Richmond, Squamish, or Whistler, you can benefit from our wire recycling services. Appointments aren't necessary for appraisals. In some cases, we may be able to come to you with our fleet of trucks to transport materials back to our facility. In addition to wire recycling, our company also recycles scrap metal, batteries recycling, brass, aluminum, stainless steel, and more. Some of the items we do not accept include appliances or cooling units containing Freon gas, televisions, computers, vehicles, and bicycles. Should you have any questions about our wire, copper, or metal recycling services, please feel free to reach out to us via phone or email. We also offer free quotes!
We Buy and Sell Metal and Much More