Skip to Content
We Accept Scrap Metal At Our North Vancouver Facility
We Lead the Way in Scrap Metal Recycling
Since 1950, North Star Metal Recycling has led the way in scrap metal recycling in North Vancouver. We are members of the Recycling Council of British Columbia (RCBC) and the Canadian Association of Recycling Industries (CARI). These affiliations help bolster our reputation as a name you can trust for scrap metal services. Our business and industry are essential to the local economy and environment. We are thrilled to do our small part. If your property is overflowing with junk, then we can help.
The Benefits Of Scrap Metal Recycling
Any item with metal components is a candidate for scrap metal recycling. At North Star Metal Recycling, we excel at finding value in things that would ordinarily go to the landfill. If you own a commercial or industrial property, there is a strong chance some of your unused items can be recycled. And that's where we come in. Whether from renovation projects, car repairs, or something else, you should never toss metal objects in with the trash. What would end up in a landfill can be reprocessed into valuable metal for future products. And there are considerable benefits for your business, including:
It Reduces Your Carbon Footprint: Environmentally-conscious businesses understand the value of reducing their carbon footprint. You can significantly reduce that footprint and create a roadmap for a more sustainable future by recycling scrap metal.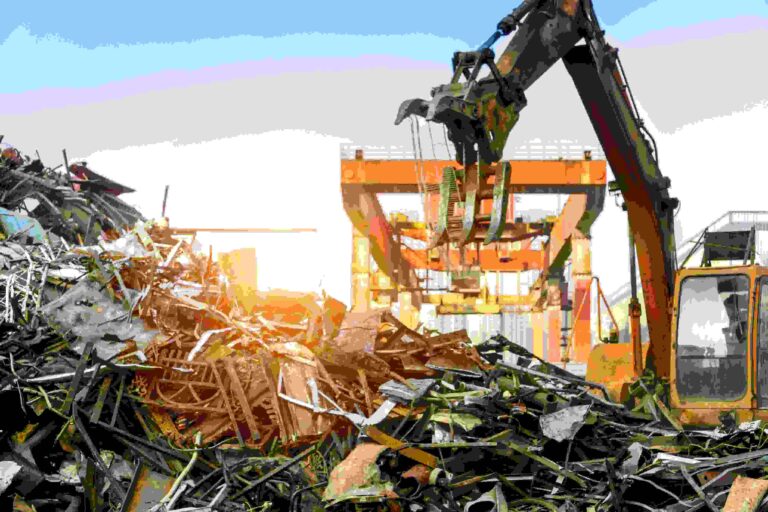 It Positively Impacts Your Raw Material Costs: North Star Metal Recycling's services can positively impact your raw material cost. We can offer competitive prices on your scrap materials if you have scrap metal during the post-production process.
It Creates Profit Maximizing Opportunities: We will pay you for your scrap metal. Don't let your metal items go to the landfill. You gain nothing from doing so. Instead, get what you can from your unused materials. Doing so can have minor – and even significant – impacts on your profitability.
It Allows You To Support Your Local Economy: As a business owner, you understand the importance of fostering a healthy local economy. Did you know that scrap metal recycling is one way to support Canadian manufacturing? Instituting a scrap metal recycling program can help.
It Reduces Waste Costs: When you implement a new scrap metal recycling policy, you reduce waste production at the local landfill – reducing costs in the process. Instead of engaging in net negative processes, institute a process that increases your profitability.
What North Star Metal Recycling Can Process
Scrap metal certainly includes pure metal items, such as piping. But there is more to the equation. At North Star Metal Recycling, we can accept anything with a metal component. If you have excess items at your construction site or facility, we can recycle them. We can take everything with a metal component, including steel beams, tools, metal siding, pipes, gutters, guardrails, water heaters, boilers, and much more. In addition, we recycle wire recycling, copper recycling, and battery recycling. We can also reprocess steel, brass, aluminum, and stainless steel.
How Do You Process and Recycle Scrap Metal?
Before we sell recycled items to manufacturers, we must recycle your scrap metal items through a complex process. During this process, our professionals collect all the metal items and process them by grade. Next, we shred them with industrial-strength machinery. Once we have shredded the materials to more manageable sizes, we use high-temperature furnaces to melt the materials into blocks or sheets. Once we perform these steps, we can pass the recycled materials along to a wide range of manufacturers for further processing and use.
Why Choose North Star Metal Recycling
At North Star Metal Recycling, we pride ourselves on building long-term relationships with industrial and commercial clients. Many of our customers come to see us regularly; understanding our professionalism translates to more profitability for them. That's the difference we provide. If you have excess junk on your property, bring it to us. We see the value and importance in that junk, and we have the tools and knowledge to transform it into something useful.
Contact Us Today To Get Started
All metals are 100 percent recyclable. That means there is tremendous value to be found in your unwanted materials. We excel at discovering that value and passing it along to you. And while we have plenty of commercial and industrial clients, non-business owners can utilize our services. For instance, our team can recycle bicycles, vehicle rims, electric motors, and more. Plus, if you are in the middle of a remodeling project at your home, we can take care of much of your demolition materials. Contact us today for more information.
We Buy and Sell Metal and Much More